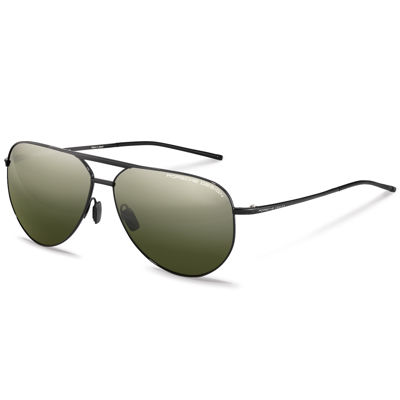 Sunglasses P´8688
Article number: 4046901926687
Inspired by the Porsche 911: modern, elegant designer sunglasses for men made of ultralight titanium. Available with polarized lenses.
---
---
Free standard shipping, free returns.
Description
Power intermingled with purist precision: inspired by the silhouette of the Porsche 911, the modern Porsche Design P'8688 Liquid Titanium sunglasses put a new spin on the Flowing Titanium series. Organic, elegant forms suggest the flowing movements of liquid metal, captured in a 100% ultralight titanium frame. Delicate 3D molded temples create light and shadows at every turn. Minimalism packed with dynamic power.

Equipped for the first time with innovative Vision Drive Polarized XTR lens technology in the colourway Black/Flash Deep Green. In Gold/Grey with VISION DRIVE Polarized lenses.
The Material
titanium
Care Tips
Wipe with a micorfibre cloth only.
---
Features
VISION DRIVE™ Lens Technology
Uv400 Protection
Comprehensive protection against ultraviolet radiation for your eyes. UV400 lenses absorb UV rays up to a wavelength of 400 nanometers.
Anti-Glare
Effective anti-glare protection reduces annoying reflections when light comes from behind.
Impact Resistance And Hard Coating
High-performance polycarbonate for extreme impact resistance combined with a robust dual coating for reliable scratch protection.
Polarized
Effective reduction of irritating reflections and glare from smooth surfaces. Automatic adjustment.
Contrast Enhancer
Impressive colour rendering and increased contrast perception even in extreme light conditions.