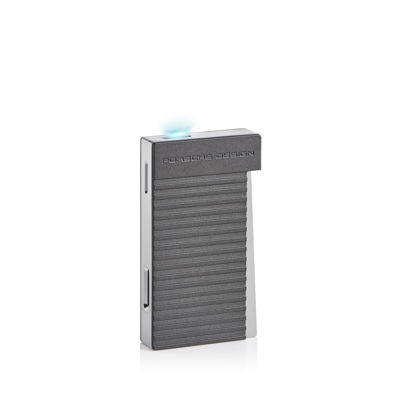 Lighter P´3647
Article number: 4046901913359
Porsche Design flat flame lighter with a milled 3D surface for an enhanced grip and a technical aesthetic. Metal push-button igniter on the side.
---
---
Free shipping, free returns.
Description
The first Porsche Design lighter with a 3D look and feel. Intricately milled horizontal grooves and Porsche Design lettering on the front of the Porsche Design Lighter P'3647 offer not only an exclusive and technical look but also a better grip. The angular metal igniter on the side accentuates the sporty, elegant aesthetic. Adjust the powerful, steady flat flame to suit your needs. Check the fill level of the 0.9-gram tank any time through the side window. Perfect function, perfectly designed. For travelers: please note that all Porsche Design lighters are classified as storm lighters. Storm lighters are not permitted in aircraft. Their carriage is strictly forbidden in both hand luggage and checked baggage.
Dimensions
10.6mm
The Material
80% metal/20% synthetic material
Care Tips
Degas before to fill. Use clean gas. Avoid dust and dirt into the burner. Prevent contact with keys, coins or other objects.
---