Cyber Promo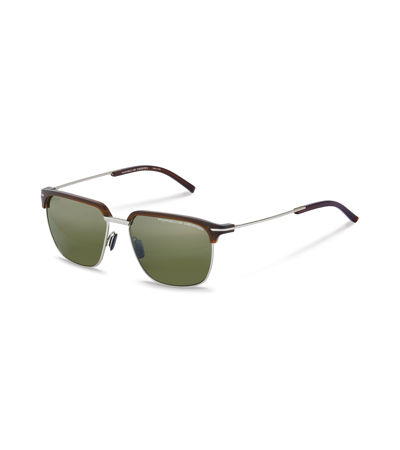 Sunglasses P´8698
Article number: 4056487007335
Porsche Design men's sunglasses – an exclusive fusion of plastic and stainless steel. A striking design full of contrast – made for the modern man.
---
---
Standard Shipping: 10-12 business days, free ground shipping, free returns. Returns extended to 60 days from day of delivery.

Holiday Shipping Cut Off:
December 8th, 10:30 AM PST - Last Day to order with Ground Shipping
December 15th, 10:30 AM PST - Last Day to order with Express Shipping
Description
Timeless, yet state-of-the-art: the Porsche Design P´8698 sunglasses reinterpret a classic shape with a modern day edge. The design: engineered and exclusive, with an innovative and edgy design. The materials: bilayer and contrasting thanks to the stainless steel and high-performance RXP®. The finish: seamless and clean, with inimitable Porsche Design DNA. The result: visual and functional perfection. These sunglasses are designed to accompany you for life, never ceasing to impress. Available in colorway D (palladium, brown) with innovative Vision Drive® Polarized XTR lens technology, in colorway C (dark gun, dark gray) with Vision Drive® Polarized lenses.
DETAILS: – Men's sunglasses in a timeless and technoid design – Retro style reinterpreted with an edgy design – Bilayer material with stainless steel and high-performance RXP® – In colorway D with Vision Drive® Polarized XTR lenses, in colorway C with Vision Drive® Polarized lenses
The Material
metal, RXP®
Care Tips
Wipe with a microfibre cloth only.
---
Features
VISION DRIVE™ Lens Technology
Uv400 Protection
Comprehensive protection against ultraviolet radiation for your eyes. UV400 lenses absorb UV rays up to a wavelength of 400 nanometers.
Anti-Glare
Effective anti-glare protection reduces annoying reflections when light comes from behind.
Impact Resistance And Hard Coating
High-performance polycarbonate for extreme impact resistance combined with a robust dual coating for reliable scratch protection.
Polarized
Effective reduction of irritating reflections and glare from smooth surfaces. Automatic adjustment
Contrast Enhancer
Impressive colour rendering and increased contrast perception even in extreme light conditions.