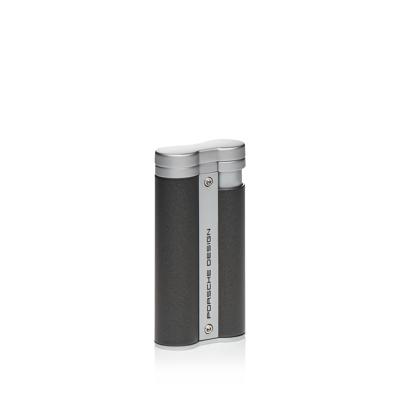 Lighter P´3633
Article number: 4046901404314
Exclusive designer lighter in a striking twin-body design. Microfine, circular flame jet opening ensures a wind-proof torch flower flame.
---
---
Free standard shipping, free returns.

Please note: Due to increased shipping volumes and carrier delays, you may experience a delay regarding the shipment of your order.
Description
Reliable technology, striking design: the unique twin-body shape of the Porsche Design Lighter P'3633 accentuates its exclusive design. Even under the windiest conditions, the microfine circular flame jet opening ensures a steady flame that can be adjusted to your needs. A cover protects the igniter button from dirt and dust. Refill with standard lighter gas – and keep tabs on the fuel using the side window. Maximum fill level 1.1 grams. For travelers: please note that all Porsche Design lighters are classified as storm lighters. torm lighters are not permitted in aircraft. Their carriage is strictly forbidden in both hand luggage and checked baggage.
Dimensions
15mm
The Material
65% metal/ 35% synthetic material
Care Tips
Degas before to fill. Use clean gas. Avoid dust and dirt into the burner. Prevent contact with keys, coins or other objects.
---